ALL PROTECTION TINTING – Solar Control Window Film
Reduce Heat by up to 78%
Reduce Glare by up to 93%
Reduce Fading by up to 80%
Blocks up to 99% of UV Rays
Saves Energy - WERS
Energy Efficient
There are a number of ways available to reduce energy consumption and green house gases. In Australia the Window Energy Rating Scheme is used in conjunction with the BASIX system and acknowledges that "The application of window film can positively contribute to a building's energy rating". Window film is a cost effective alternative to low-e and 'comfort' glazing types for both the residential and commercial markets, particularly.
Comfort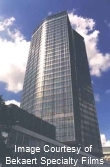 Large buildings and office blocks especially benefit from the controlling properties of Solar Films. Window films reduce the heat load entering the building and therefore reduce the load on the air conditioning unit.
Installation also alleviates problem hot/cold spots within large buildings. This enables temperatures to be maintained at a level which is appropriate for all the staff regardless of which part of the building they operate from.
Aesthetically Pleasing
Solar Control Window Films are available in a range of colours, finishes, densities and heat rejecting qualities ensuring there will be one suitable for your home or office.
Some films are barely noticeable from either inside or out with night time views are retained.
Quality
We are free to use any brand of film, sourcing only high quality films with proven colour stability and excellent performance.
Manufacturers
Global Window Films, Bekaert Specialty Films and 3M are three of the worlds leading window film manufacturers. They strive to develop new products while continuing to support their more established product lines.
Definitions
Why not have a look at the glossary of terms as supplied by the Window Film Association of Australia and New Zealand.
Important Information Regarding Coated Glass
All Protection Tinting Pty Ltd