ALL PROTECTION TINTING - Privacy Window Film
Applications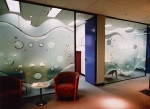 Privacy and Decorative films can be applied to windows and doors at home or the office. These films can enhance the look of older buildings or complement the image of newer buildings.
Variety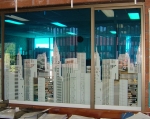 These window films come in a variety of patterns, finishes and widths. ALL PROTECTION TINTING carries a wide range of samples; clear, neutral, frosted, embossed and coloured, something to suit every home or office.
We are able to custom design films to allow corporate logos and colours to be incorporated. We can either computer-cut or print, to achieve the required look and finish.
Special Effect Films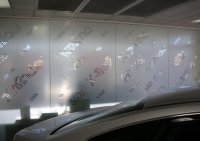 ALL PROTECTION TINTING's range also includes Hologram, Mirror and Gold leaf films.
How Much Does This Cost?
Prices vary depending on the complexity of design and film used.
If you have an idea for computer-cut or printed film, why not email us. We will provide an initial budget quote and send you a portfolio of similar work we have completed.
Important Information Regarding Coated Glass
All Protection Tinting Pty Ltd