ALL PROTECTION TINTING – Reduce the risk of injuries
Protection for your home or office
Dangers posed by breaking glass are dramatically reduced with the installation of Safety Window Film. Incredibly tough, they are relied upon throughout the world, to provide increased protection to lives and property.
Safety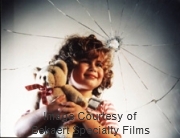 Safety window films can make your home a safer place. The NRMA rates glass as one of the major causes of accidents within the home. A child falling into a glass door can experience unimaginable injuries, yet with Safety window films the majority of the glass will be held in place to reduce the risk of serious laceration.

Safety window films can be applied to thin float glass to ensure that it complies with AS/NZS2208 standard. This is an important safety standard which evaluates the characteristics of glazing. This is critical in places where human impact is a high risk, i.e. child care centres and public areas.
Safety Strips AS/NZS1288
ALL PROTECTION TINTING supplies and installs computer cut Safety Strips which comply with the AS1288 standard, ensuring the glazing panel is visible. We have a range of standard styles, including squares and circles, and we can match your corporate branding by incorporating you company logo into the design.
Film and Application
Safety window films greatly increase durability and resistance to shattering in a very unobtrusive way. These thin, pliable films can be easily and quickly applied to existing windows. ALL PROTECTION TINTING stocks a large range of security and safety films which include clear and tinted versions.

The film can be applied to existing windows; providing added protection without the expense of having new windows fitted.
The film bonds tightly to glass, and, in the event of human impact, helps hold shattered glass in place and reduces the risk of serious injury.
All safety films used by ALL PROTECTION TINTING carry at least a 10 year guarantee.
Please see our Security Film range for heavy duty films used to provide protection in the event of severe weather, break and enter or bomb blast.
Important Information Regarding Coated Glass
Graffiti problems? Find out about our anti-graffiti window films
All Protection Tinting Pty Ltd