ALL PROTECTION TINTING - Security Window Film
Installation of Security Film provides hazard reduction in the following situations:
Break and Enter

Bomb Blasts / Explosions

Extreme Weather
Break and Enter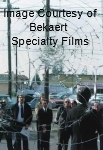 Security Window Film applied to your windows deters intruders, resulting in added protection for personal safety and valuables. Security Film fitted to plate glass shop windows makes rapid smash and grab theft unlikely. It normally requires several hard blows to smash the glass, and several more to produce an opening large enough to reach or enter through.
Bomb Blasts / Explosions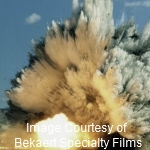 Architects and planners have become used to designing buildings to withstand threats imposed by extreme weather conditions and fire. Unfortunately, it seems that in addition to these considerations, today, no building is immune from the possibility of explosion or bomb blast. Over the years, Safety and Security Films have been tested by numerous private and government agencies in Australia, England and USA. Security Films are so strong that they have consistently demonstrated their ability to hold shattered glass even when the entire window is blown out of its frame. In the event of an explosion or bomb blast, these films reduce the risk of injury from flying glass.
Structural Sealants
The purpose of the structural sealant is to ultimately bond and anchor the film application and the glass to the existing window frame.
Without the Attachment Systems the majority of the glass shards will be contained but there is a significant chance that the window may become free from the frame and airborne. This could cause serious injury.
We, at ALL PROTECTION TINTING, choose to use the silicone sealant, Dow Corning® 995 as it is the only type which has been subjected to and passed rigorous bomb blast trials.
Film and Application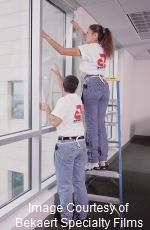 Safety and Security Films greatly increase durability and resistance to shattering in a completely unobtrusive way. These thin, pliable films are easily and quickly applied to existing windows. The films retain a high level of clarity over the years, even under extreme conditions. ALL PROTECTION TINTING stocks a full range of security and safety films which include clear and tinted versions.
The film can be applied to existing windows; providing added protection without the expense of having new windows fitted.
The film bonds tightly to glass, and, in the event of severe weather conditions, explosions, fires or vandalism, help hold shattered glass in place and reduce the risk of serious injury.
Manufacturers
Global Window Films, Bekaert Specialty Films and 3M are three of the worlds leading window film manufacturers. They strive to develop new products while continuing to support their more established product line.
Important Information Regarding Coated Glass
Graffiti problems? Find out about our anti-graffiti window films
All Protection Tinting Pty Ltd