ALL PROTECTION TINTING – Get Rid of Graffiti
Anti-graffiti window films are sacrificial coatings used to protect a wide range of substrates including, glass, stainless steel, plastics, metal and marble from vandalism.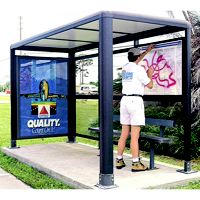 With the same level of clarity as window glass they provide discrete, reliable protection for shopfronts, advertising boards and transport vehicles.
These hard-wearing, clear, polymer films with scratch resistant coatings are easily removed and replaced, reducing turnaround time and disruptions to public services.
A popular choice with maintenance managers; cost-effective anti-graffiti films are already used in a number of high-risk locations, including shopping centres, airports and building foyers, trains and buses.
All Protection Tinting Pty Ltd