ALL PROTECTION TINTING Secures Signage Award!
The Australian Sign & Graphics Awards 2006 took place on Friday evening in the Darling Harbour Convention Centre. The night of nights for the signage industry saw entrants from all over Australia, ranging from enthusiastic apprentices to experienced masters.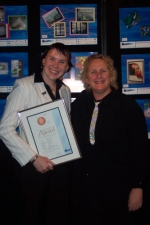 Tracey-Lee Googh of ALL PROTECTION TINTING Thornleigh received bronze in the 1st Year Apprentice category. "I am delighted to have been placed; this was a really enjoyable job which allowed me to be creative." Tracey-Lee said of the works displayed at Ryde Motor Group, Ryde.
Not one to be out done by her two male co-workers, Tracey-Lee thrives in this male dominated industry. Company director Alison Newham is very proud to have such promising young talent on her team, "Tracey-Lee has shown considerable maturity and dedication in the first year of her apprenticeship, single handedly taking on complex projects. We are very excited about next year."
"These awards go to show that trade apprenticeships are just as interesting and competitive as other further education courses."
18th September 2007
All Protection Tinting Pty Ltd