Glass; The Weakest Link
Glass is an easy target for individuals or groups intent on causing damage and injury.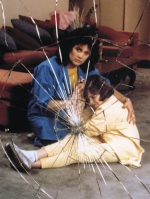 Armorcoat Safety and Security Film provides increased protection against the dangers of broken glass.
Supplied and installed by ALL PROTECTION TINTING, these thin, pliable films can be easily and quickly applied to existing windows. This unique product is tough, durable and already relied upon by high profile consumers around the world.
The resilient adhesive bonds tightly to glass, therefore in the event of damage the potentially lethal shards of glass are held in place reducing the risk of serious injury and access to the property.
An additional benefit of the adhesive is that it rejects 99% of ultra violet light, therefore providing increased protection against fading of curtains, carpets and valuable artefacts.
Armorcoat Safety and Security Films retain a high level of clarity and carry a warranty of 10 years.
ALL PROTECTION TINTING stocks a large number of Armorcoat Safety and Security Films, including clear and tinted versions.
Graffiti problems? Find out about our anti-graffiti window films
All Protection Tinting Pty Ltd