Case Study:
Anti-Intruder Security Film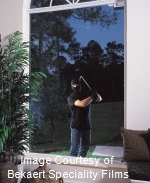 When considering how to protect your home or business against intruders think beyond noisy alarms, and unattractive grills and bars. Consider ALL PROTECTION TINTING's wide range of highly effective Security Film.
Security Films deter intruders due to the unexpected resistance and therefore delay entry, providing highly effective protection against smash and grab thefts.
Security films are available in clear or tinted and retain a high level of clarity over the years, and come with a 10 year warranty. The film is applied to existing windows; providing added protection without the expense of having new windows or glass fitted.
Demonstration
During 2006, ALL PROTECTION TINTING conducted an inhouse demonstration, for a major bank, to illustrate the benefits of a security film and structural sealant combinations. In doing so, we aimed to
determine the force required, in real terms, to penetrate the glass and gain access.
Film Details
200 micron Armorcoat security film was applied to 2 sides of 6.38mm laminated glass with 4 sides of Dow Corning 995 structural sealant attachment.
The security film and Dow Corning 995 applied to side A had cured for 15 days. Curing time to achieve full performance strength is normally 3 weeks.
Results

The initial impact was at the centre of the glass panel which resulted in minor penetration of the glass film combination.
Despite receiving 43 hits, with a sledge hammer, the centre of the panel did not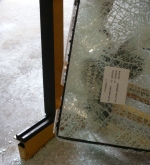 provide access: the weakness was in the lower corner (see below).
Although the lower half of the panel became loose the glass, film and silicon combination remained intact (see left).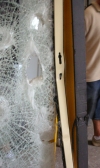 Despite the sledge hammer not coming into direct contact with the frame, the force on the strongly bonded glass, film and silicon combination caused the frame to bend (see right).
Graffiti problems? Find out about our anti-graffiti window films
All Protection Tinting Pty Ltd