Window Tinting Increases Comfort
In the current economic climate families are more likely to spend time at home in a bid to save money.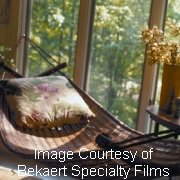 Increase the comfort and energy efficiency of your home this summer with the application of solar control window films.
The Window Energy Rating Scheme of Australia acknowledges that window film "can positively contribute to a building's energy rating" (http://www.wers.net/commercial/wers-for-window-film, 13/11/08).
Solar Control Film reduces the volume of sun's heat entering a room, inturn reducing the need for artificial coolers such as air conditioners and fans to maintain a comfortable, liveable / workable temperature.
A wide range of films are available in various colours, tints, densities and finishes and are suitable for application to your home or office.
Additional benefits of Solar Control Window Film include reducing glare and fade while blocking up to 99% of UV.
All Protection Tinting Pty Ltd