ALL PROTECTION TINTING Gives Salvo's Free Solar Control Window Film
Sydney based window tinting company; ALL PROTECTION TINTING has once again demonstrated its charitable side by completing a major job for free at the Salvation Army headquarters in Parramatta.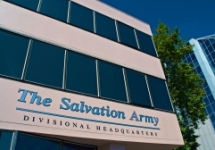 The Salvation Army are able to benefit from the reduced volume of heat and glare entering the room along with the additional benefits of blocking 99% of UV radiation and inturn reducing fade.
ALL PROTECTION TINTING applied window film to a total of 63 panels, taking approximately 40 man hours – the charitable offer was greatly received.
By limiting the volume of heat and visual light entering the room, solar control window film increases the energy efficiency of the room and building.
By increasing energy efficiency the donation of Solar Control Film saves the Salvation Army money now as well as in the future by reducing the demand on the air conditioning units.
Manufacturer Bekaert Speciality Film's kindly discounted the cost of materials by 33% to assist ALL PROTECTION TINTING with their generous offer.
8th November 07
All Protection Tinting Pty Ltd