Introducing Solar Control Tinting
Summer is coming! Are you ready?
After experiencing such a mild winter this year the experts are predicting that this summer is going to be hot, hot, hot!!!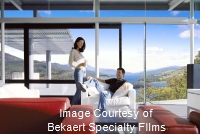 Sunshine is a very important part of a healthy lifestyle. It enables outside sports to be played and it makes us feel happy. Rays of sunshine can bring life and warmth to a room, but there is a fine line between pleasurable and uncomfortable.
The glorious sunshine is one of the reasons this beautiful country is referred to as the 'Golden Country' but it is not all a case of sun, sea and swimming. No… in most cases it is more sunburn, sweat and snags.
Unfortunately rays of sunshine do not wait to be invited into your home which means that if you don't want them there you must take action. Traditional methods of blocking out the sun include, curtains, roller shutters, Venetian and vertical blinds. These work well but have the disadvantage of blocking out the view and the world along with the sunshine.
Offering the perfect solution: Solar Control Window Film
Some window films are hardly noticeable from either the inside or out, yet heat, glare and fading are drastically reduced. Films come in clear, or a range of coloured finishes and a large selection of densities and heat rejection qualities. They can be easily and quickly applied to windows and glass doors in your home or office.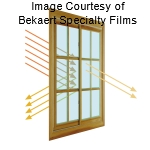 The sun can cause severe glare throughout the day. The installation of Solar Control Window Film enables glare to be reduced, up to 93%. This offers a more comfortable working and living environment.
Even during a mild summer, the costs incurred trying to cool living and working areas can be very expensive. Reduced energy costs will be experienced as a direct result of solar control film being installed. By investing in Solar Control Window Film, householders are able to limit and control the volume of heat penetrating the window and entering the room. For commercial applications, ALL PROTECTION TINTING can provide a free computerised energy analysis predicting payback period after film installation. Reduced air-conditioning expenses means the cost of the films is recovered in energy savings.
Solar Control Window Films block out up to 99% of harmful UV rays. UV rays are the main cause of fading, so damage to carpets, curtains and furnishings is reduced by up to 80%. These films are ideal for museums and places where artifacts are kept, as well as offering increased protection for all householders.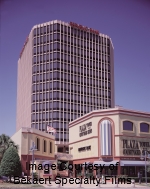 From the outside, Solar Control Window Films give buildings a clean, contemporary look. They disguise the irregularities of non-uniform internal lighting, curtains, blinds and furniture placement.
Large buildings and office blocks also benefit from the controlling properties of Solar Tinting. Installation prevents problem hot/cold spots within the building. This enables temperatures to be maintained at a level which is appropriate for all the staff, regardless of which part of the building they operate from.
The warranty period for most applications is 10 years.
All Protection Tinting Pty Ltd