Facts About Fading
Protection for Furniture, Fittings and You!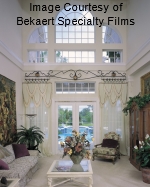 Providing protection against fade, Solar Control Window Films are suitable for application to residential or commercial properties. Protect your curtains, carpets, upholstery, artworks and retail stock displays from the harmful effects of UV, i.e. fading, splitting and cracking.
Untreated clear glass allows over 70% of the suns harmful ultraviolet light to penetrate the glass, entering your home or office and accelerating the deterioration of internal fittings.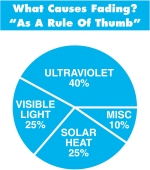 There are a number of factors which contribute to fade, including ultraviolet light, visible light and solar heat. The application of Solar Control Window Film reduces the damage to fixtures and furnishings by
Reducing Heat by up to 78%
Reducing Glare by up to 93%
Blocking out 99% of UV rays
Therefore reducing fade of carpets, curtains, artworks and other furnishings by up to 80%. It is important to remember that there are a numbre of contributing factors which result in material damage and therefore the fading process can only be slowed and not completely stopped. Miscellaneous factors account for 10% of fade and these include artificial lighting, humidity, dye quality and fabric type.
Window Films help reduce fading. They can't stop it!
ALL PROTECTION TINTING stocks a wide range of high quality Solar Control Films for you to choose from. Available in a wide selection of colours and densities – we even have clear – there is sure to be one to complement your home or office.
All Protection Tinting Pty Ltd